Planning on Solar Power Plant 900 Va Power Grid Using Micropower Homer Household Application
Perencanaan Pembangkit Listrik Tenaga Surya Ongrid Daya 900 Va Menggunakan Homer Dayamikro Aplikasi Rumah Tangga
Keywords:
PLTS, On-Grid, Solar Panel, Energy, Modul Surya
Abstract
potential of solar energy sources in Indonesia reaches an average of 4.5 kWh per square meter. PLTS On-Grid PLTS configuration system that is connected to the network with the KWh EXIM tool which functions to send exces electricity by PLTS to the network. There are many conditions for installing PLTS on the roof of a house such as the location of the area, the direction of the roof of the house, the roof area where the solar module will be installed. In this study, 4 units of 330 Wp polycrystalline solar modules were used to meet the needs of the house's electrical load. This PLTS is designed to supply electricity with an estimated daily energy load of around 6.69 kWh. For the planning of this On-grid PLTS, 4 solar panels are needed which are arranged in 2 series 1 parallel with 1 array. The components needed in this plan are 1 SCC unit, and 1 inverter unit with a PLTS output power of 2,416.227 kWh/year. Performance ratio (PR) in the PLTS system as a reference for the initial investment of Rp. 16,730,000 which covers costs for the components of the PLTS system and operational maintenance costs of Rp. 1673,000
References
A. G. Hutajulu, M. RT Siregar, and M. P. Pambudi, "Rancang Bangun Pembangkit Listrik Tenaga Surya (Plts) on Grid Di Ecopark Ancol," TESLA J. Tek. Elektro, vol. 22, no. 1, p. 23, 2020, doi: 10.24912/tesla.v22i1.7333.
L. E. Bien, I. Kasim, and W. Wibowo, "Perancangan Sistem Hibrid Pembangkit Listrik Tenaga Surya Dengan Jala-Jala Listrik PLN Untuk Rumah Perkantoran," JETri, vol. Vol.8, no. No.1 Agustus 2008, pp. 37–56, 2008.
Y. Afrida, Jeckson, and D. Feriyanto, "Perencanaan Pembangkit Listrik Tenaga Surya on Grid," Aisyah J. Informatcs Electr. Eng., vol. 4, no. 1, pp. 74–77, 2022, [Online]. Available: http://jti.aisyahuniversity.ac.id/index.php/AJIEE
Kemen-ESDM, "Peraturan Menteri Energi Dan Sumber Daya Mineral No 26 Tahun 2021 Tentang Pembangkit Listrik Tenaga Surya Atap Yang terhubung Pada Jaringan Tenaga Listrik Pemegang Izin Usaha Penyediaan Tenaga Listrik Untuk Kepentingan Umum," Ber. Negara RI tahun 2021 Nomor 948, no. 1, pp. 1–35, 2021.
L. Aluang, "LUBUAK ALUANG," 2022.
M. S. Ibnu Kahfi Bachtiar1, "Rancangan Implementasi Pembangkit Listrik Tenaga Surya (PLTS) Skala Rumah Tangga menggunakan Software HOMER:," J. Sustain. J. Has. Penelit. dan Ind. Terap., vol. 5, no. 2, pp. 17–25, 2016, [Online]. Available: https://ojs.umrah.ac.id/index.php/sustainable/article/view/368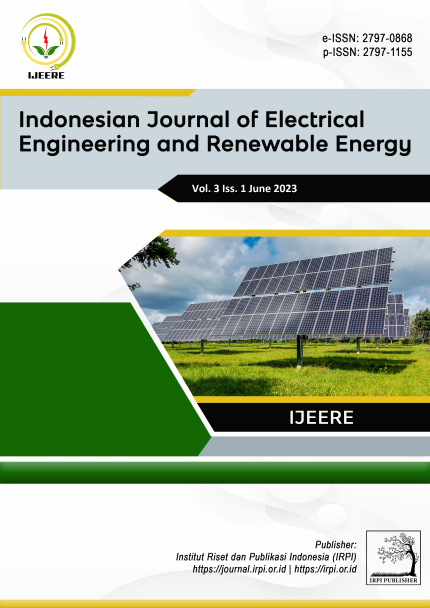 Downloads
How to Cite
[1]
M. Z. Zulni and Sepannur, "Planning on Solar Power Plant 900 Va Power Grid Using Micropower Homer Household Application: Perencanaan Pembangkit Listrik Tenaga Surya Ongrid Daya 900 Va Menggunakan Homer Dayamikro Aplikasi Rumah Tangga", IJEERE, vol. 3, no. 1, pp. 29-35, Jun. 2023.
Section
Table of Contents IJEERE
License
Copyright (c) 2023 Indonesian Journal of Electrical Engineering and Renewable Energy (IJEERE)
This work is licensed under a Creative Commons Attribution-ShareAlike 4.0 International License.