Design and Development Of Solar Cell and Peltier Characteristics System Base On Internet Of Thing
Rancang Bangun Sistem Monitoring Karakteristik Solar Cell dan Peltier Berbasis Internet Of Thing
Keywords:
Sensor PZEM-017, ESP8266 , Blynk IOT
Abstract
This IOT-based monitoring tool for the characteristics of solar cells and Peltier is a tool that is used as a comparison for solar cells and Peltier. with this tool, experiments can be carried out to determine the characteristics of solar cells and peltiers, with direct observation methods to collect data on sources of electrical energy that can be produced by solar cells and peltiers, Therefore, 3 experiments were carried out using a 2W/6V solar cell, Peltier TEG SP1848 and 3W/12V LEDs. The first was data collection of the electrical energy source produced by 2 solar cells, connected in series with an experimental length of 60 minutes and producing a voltage of 10, 39 V, 0.11 A current and 1.10 W power, the second experiment of data collection on a solar cell and Peltier series circuit with an experimental time of 60 minutes produces a voltage of 10.38 V,  a current of 0.13 A and a power of 1.30 W In the third experiment, data collection on a series of solar cells and a parallel circuit on a Peltier with an experimental length of 60 minutes resulted in a voltage of 11.13 V, a current of 0.10 A and a power of 1.10 W. produces a voltage of 0.75 V better than a series circuit with a greater resistance and produces a voltage of 0.74 V better than a series circuit of 2 voltage solar cells with a temperature of each peltier 37? to 39 ? , with The level of decline is still stable when the solar cell is not exposed to sunlight and the lack of heat energy sources that can be absorbed by the Peltier, it can be said that peltier can help the effectiveness of solar cells.
Keywords : PZEM-017 sensor DC, ESP8266, Blynk IOT
References
N. Putra, R. A. Koestoer, M. Adhitya, A. Roekettino, and B. Trianto, "Potensi Pembangkit Daya Termoelektrik Untuk Kendaraan Hibrid," MAKARA Technol. Ser., vol. 13, no. 2, pp. 53–58, 2010.
H. Haryanto, M. R. Makhsum, and I. Saraswati, "Perancangan Modul Termoelektrik Generator Menggunakan Peltier," Tek. J. Sains dan Teknol., vol. 11, no. 1, p. 26, 2015.
A. P. David, "Thermoelectric Generator: Power Generation Using Temperature Difference for Use in Home Applications," SSRN Electron. J., 2019.
M. Algusri and D. Redantan, "Analysis of peltier characteristic and cold side treatment for thermoelectric generator module at brick kiln furnace," Proc. - 2018 2nd Int. Conf. Electr. Eng. Informatics Towar. Most Effic. W. Mak. Deal. with Futur. Electr. Power Syst. Big Data Anal. ICon EEI 2018, no. October, pp. 134–139, 2018.
M. Nesarajah and G. Frey, "Thermoelectric power generation: Peltier element versus thermoelectric generator," IECON Proc. (Industrial Electron. Conf., pp. 4252–4257, 2016.
A. Tranggono, A. Salim, Y. Prasetyo, and Y. A. Fakhrudin, "Study of Effect Comparison Thermoelectric Characteristics of TEC and TEG by Considering the Difference in Temperature and Variable Resistant," Int. Res. J. Adv. Eng. Sci., vol. 3, no. 4, pp. 225–228, 2018.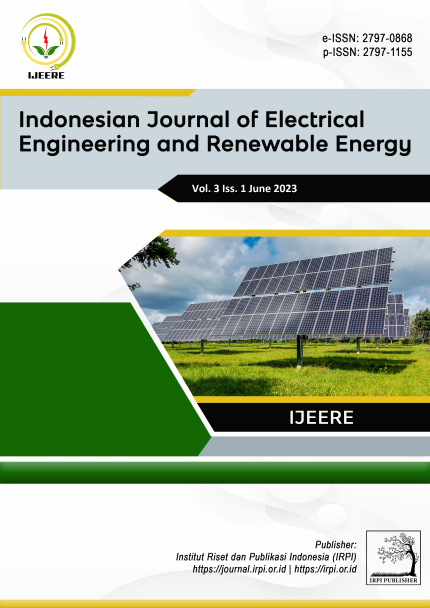 Downloads
How to Cite
[1]
I. Indonesia and sepannur . bandria, "Design and Development Of Solar Cell and Peltier Characteristics System Base On Internet Of Thing: Rancang Bangun Sistem Monitoring Karakteristik Solar Cell dan Peltier Berbasis Internet Of Thing", IJEERE, vol. 3, no. 1, pp. 12-17, Jun. 2023.
Section
Table of Contents IJEERE
License
Copyright (c) 2023 Indonesian Journal of Electrical Engineering and Renewable Energy (IJEERE)
This work is licensed under a Creative Commons Attribution-ShareAlike 4.0 International License.