Analysis of Technical and Economic Aspects Utilization of Polyprophylene Plastic Waste as an Alternative Fuel
Analisis Aspek Teknis dan Ekonomis Pemanfaatan Sampah Plastik Polyprophylene Sebagai Alternatif Bahan Bakar
Keywords:
Polyprophylene, pyrolisis, SuperPro Designer, Plastic Waste, NPV
Abstract
Pekanbaru is the largest city in Riau Province. Pekanbaru has 3 zones of waste transportation, which are combined at the Muara Fajar final disposal site (TPA). The waste at the Muara Fajar TPA consists of organic and inorganic waste, 35% of which is inorganic waste is polyprohylene type plastic waste. The purpose of this study was to analyze the technical aspects and economic aspects of the use of plastic waste as an alternative fuel using the pyrolysis method using the SuperPro Designer software. The results of the research on the technical aspects of the potential of pyrolysis oil produced are 7,769,183 L/year and 23,574 L/day, the electrical energy produced is 186,331 kWh/day. The results of the analysis of economic aspects on the net present value of Rp. 310,503,918,563, for an internal rate of return of 30.24%, and for a payback period of 5 months the return on investment.
References
SIPSN, "Sistem Informasi Pengelolaan Sampah Nasional," 2021. https://sipsn.menlhk.go.id/sipsn/ (accessed Jun. 23, 2022).
M. Annisa Akmal, "Kajian Pengelola Sampah Mal Kota Pekanbaru," Univ. Andalas, 2022, [Online]. Available: http:/scholar.unand.ac.id/id/eprint/105447
Damanhuri, E, and P. T, "Pengelolaan Sampah Terpadu (Pertama)," Inst. Teknol. Bandung, 2016.
Badan Pengelola Statistik, "Data Jumlah Penduduk Kota Pekanbaru Tahun 2021," 14710.2201, 2021. https://pekanbarukota.bps.go.id/publikasi.html (accessed Mar. 19, 2022).
B. Pekanbaru, "SIPSN Nilai Sistem Pengelolaan Sampah di Pekanbaru Terus Membaik," 2021. https://betuah.com/mobile/detail/5129/sipsn-nilai-sistem-pengelolaan-sampah-di-pekanbaru-terus-membaik (accessed Jun. 09, 2022).
N. Wakila, "Wawancara," Pekanbaru, 2022.
DLHK, "Rekapan Data Sampah 2018 - 2021," Pekanbaru, 2018.
D. Admin, "DAMPAK PLASTIK TERHADAP LINGKUNGAN," 2019. https://dlh.bulelengkab.go.id/informasi/detail/artikel/dampak-sampah-plastik-terhadap-lingkungan/ (accessed Jul. 01, 2022).
W. Yulianto, F. Rhohman, and N. Suwito, "Perbandingan Bahan Bakar Premium Dengan Produk Cair Hasil," vol. 1, no. 2, pp. 114–121, 2018.
B. Wajdi, B. A. Novianti, L. Zahara, and E. Korespondensi, "Pengolahan Sampah Plastik Menjadi Bahan Bakar Minyak ( BBM ) Dengan Metode Pirolisis Sebagai Energi Alternatif," Kappa J., vol. 4, no. 1, pp. 100–112, 2020, [Online]. Available: http://e-journal.hamzanwadi.ac.id/index.php/kpj/index
S. Ramanda and L. Dewiyani, "Business Plan Pemanfaatan Sampah Plastik Menjadi Bahan Bakar Minyak Sebagai Implementasi Social Entrepreneurship di Pulau Harapan," J. Integr. Sist. Ind., vol. 9, no. 1, 2022, [Online]. Available: http://jurnal.umj.ac.id/index.php/jisi
M. Muchammad, "Analisis Pemanfaatan Limbah Sampah Plastik Jenis Polypropylene Menjadi Bahan Bakar Alternatif," J. Ilm. Momentum, vol. 14, no. 1, pp. 69–74, 2018, doi: 10.36499/jim.v14i1.2189.
F. Ar Rasyid, "SuperPro Designer." Pekanbaru, 2022.
G. Genset, "Cara menghitung Pemakaian Bahan Bakar pada Genset," 2019. http://gudanggenset.com/berita-dan-artikel/cara-menghitung-pemakaian-bahan-bakar-pada-genset/ (accessed Jun. 29, 2022).
Oktovero, "Pemodelan Proses Dan Analisis Ekonomi Produksi Bioetanol Dengan Memanfaatkan Sampah Makanan Di Kota Pekanbaru Sebagai Bahan Bakar Generator Set," Uin Suska Riau, 2017.
M. Sidiq, "STUDI KELAYAKAN PEMBANGKIT LISTRIK TENAGA UAP (PLTU) MENGGUNAKAN AMPAS TEBU DARI PT. MADU BARU YOGYAKARTA," J. TeknoSAINS FTIE UTY, pp. 1–12, 2018.
J. Entrepreneur, "Cara Menghitung Payback Period pada Studi Kelayakan Bisnis," PT MID Solusi Nusantara, 2022. https://www.jurnal.id/id/blog/cara-menghitung-payback-period-pada-studi-kelayakan-bisnis-sbc/ (accessed Jun. 23, 2022)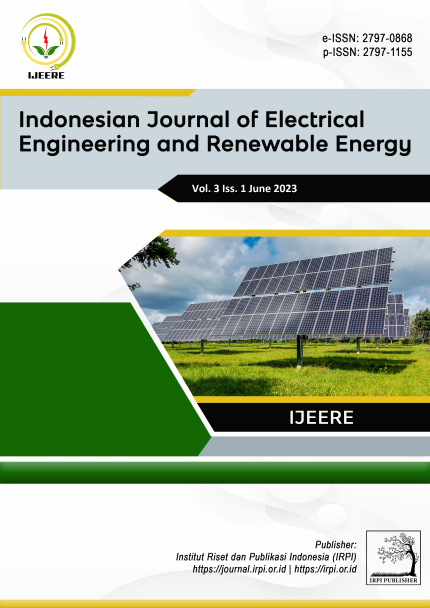 Downloads
How to Cite
[1]
F. Ar Rasyid, "Analysis of Technical and Economic Aspects Utilization of Polyprophylene Plastic Waste as an Alternative Fuel: Analisis Aspek Teknis dan Ekonomis Pemanfaatan Sampah Plastik Polyprophylene Sebagai Alternatif Bahan Bakar ", IJEERE, vol. 3, no. 1, pp. 1-11, Jun. 2023.
Section
Table of Contents IJEERE
License
Copyright (c) 2023 Indonesian Journal of Electrical Engineering and Renewable Energy (IJEERE)
This work is licensed under a Creative Commons Attribution-ShareAlike 4.0 International License.