System Design of On-Grid PLTS Barbershop Gaul with Helioscope
Desain Sistem PLTS On-Grid pada Barbershop Gaul dengan menggunakan Helioscope
Keywords:
Photovoltaic System, On Grid, Simulation , Design , Helioscope
Abstract
Indonesia is a tropical country where Indonesia has summer with an average radiation of 4.5 kwh/m2 per day. Based on this, Indonesia is classified as a country that has abundant potential for solar energy so that the most suitable and most efficient generator to use is a solar power plant. Barbershop Gaul is a building that is used as a pilot for the object of research in this project. This building has high electricity consumption so that the difference between income and expenses for electricity consumption is often a deficit. The amount of electricity consumption is contributed by several existing electronic equipment including shaving machines, air conditioners, water pumps and so on. To overcome this problem, this project aims to produce a PLTS system design using a simulation method using the helioscope application. In addition to producing a system design, this project further produces an overview of the monthly PLTS energy production, a summary of the system, power loss sources to its economic analysis including initial investment costs, payback period and potential profits that can be obtained. After carrying out this project, it was concluded that the On-Grid PLTS at Barbershop Gaul produces 1,243.8 kWh of electrical energy annually with an energy consumption of 2,662 kWh/year. Thus if a PLTS is installed, the electrical energy used from the PLTS is 1,243.8 kWh and the remaining 1,418.2 kWh is supplied by PLN so Barbershop Gaul needs to pay IDR 3,600,000 to PLN for electricity consumption. However, with the savings generated by implementing the ON-grid system, the business owner only pays Rp. 1,682,593/year. For the initial investment issued in the installation of PLTS, it is Rp. 19,094,480 with Return Of Investment 11.3 Years or 11 Years 3 months
References
Badan Pusat Statistik, "Pengaruh Penyesuaian Tarif Tenaga Listrik Golongan Golongan Rumah Tangga Terhadap Inflasi," 2022. [Online]. Available: https://gatrik.esdm.go.id/assets/uploads/download_index/files/1cb41-bahan- presentasi-penyesuaian-tarif-dasar-listrik-juli-2014-kirim-.pdf
M. Bachtiar, "Prosedur Perancangan Sistem Pembangkit Listrik Tenaga Surya Untuk Perumahan (Solar Home System)," J. SMARTek, vol. 4, no. 3, pp. 176–182, 2006, [Online]. Available: https://media.neliti.com/media/publications/221906-prosedur- perancangan-sistem-pembangkit-l.pdf
M. Syukri, "Perencanaan Pembangkit Listrik Tenaga Surya (PLTS) Terpadu Menggunakan Software PVSYST Pada Komplek Perumahan di Banda Aceh," J. Rekayasa Elektr., vol. 9, no. 2, pp. 77–80, 2010.
I. Gede Civavisna Brahma, I. Nyoman Satya Kumara, and I. Ayu Dwi Giriantari, "Juni 2021 I Gede Civavisna Brahma, I Nyoman Satya Kumara," Ida Ayu Dwi Giriantari, vol. 8, no. 2, pp. 249–256, 2021.
K. Pendidikan, D. a N. Kebudayaan, and U. S. a M. Ratulangi, "Universitas sam ratulangi," vol. 7, no. 0431, p. 864286, 2012.
C. W. Putri, "Disusun Oleh?: Disusun Oleh?:," Pelaks. Pekerj. Galian Divers. Tunn. Dengan Metod. Blasting Pada Proy. Pembang. Bendungan Leuwikeris Paket 3, Kabupaten Ciamis Dan Kabupaten Tasikmalaya Jawa Barat, vol. 1, no. 11150331000034, pp. 1–147, 2019.
U. Mataram, N. Atsauri, A. B. Muldjono, A. Natsir, U. Mataram, and U. Mataram, "Desain Kapasitas Pembangkit Listrik Tenaga Surya Rooftop Di," 2018.
J. Bawalo, M. Rumbayan, dan N. M. Tulung, "Perencanaan Pembangkit Listrik Tenaga Surya Di Rumah Kebun Desa Ammat Kabupaten Kepulauan Talaud," Pap. Knowl. . Towar. a Media Hist. Doc., 2014.
I. Yulistiono et al., "DI GARDU INDUK BLIMBING-MALANG," 2011, [Online]. Available: https://media.neliti.com/media/publications/116742-ID-perancangan- hybrid-sistem-photovoltaic-d.pdf
S. S. Mohammad Hafidz?;, "Perancangan Dan Analisis Pembangkit Listrik Tenaga Surya Kapasitas 10 Mw on Grid Di Yogyakarta," Jur. Tek. Elektro, Sekol. Tinggi Tek. PLN, vol. 7, no. JURNAL ENERGI & KELISTRIKAN VOL. 7 NO. 1, JANUARI-MEI 2015, hal. 49, 2015.
T. K. A. W. Hasanah, "KAJIAN SISTEM KINERJA PLTS OFF-GRID 1 kWp DI STT-PLN," J. Energi Kelistrikan, vol. 1, no. 69, pp. 5–24, 1967.
Kementrian Energi dan Sumber daya Mineral, "content-insentif-plts-atap." Kementrian ESDM. [Online]. Available: https://www.esdm.go.id/assets/media/content/content-insentif-plts-atap.pdf
Indonesia.go.id, "kini-beli-plts-atap-bisa-dicicil." [Online]. Available: https://indonesia.go.id/kategori/berita/2849/kini-beli-plts-atap-bisa-dicicil?lang=1#:~:text=Perbankan milik pemerintah mulai menyediakan,optimalisasi pemanfaatan energi baru terbarukan
Kementrian Energi Dan Sumber Daya Mineral, "Implementasi Peraturan Mentri ESDM tentang PLTS Atap." https://ebtke.esdm.go.id/post/2022/01/21/3058/implementasi.peraturan.menteri.esd m.tentang.plts.atap (accessed Oct. 22, 2022).
N. Budiastra, A. I. Weking, T. Elektro, F. Teknik, U. Udayana, and B. Jimbaran, "Sistem on Grid Pembangkit Listrik Tenaga Matahari," Simdos Unud, pp. 1–9, 201.
R. Siahaan, I. W. Kusuma, dan I. B. Adnyana, "Pengaruh Sudut B dan W pada PLTS di PT Indonesia Power," J. METTEK, vol. 6, no. 1, hal. 62, 2020, doi: 10.24843/mettek.2020.v06.i01.p08.
Bayuaji Kencana et al., "Panduan Studi Kelayakan Pembangkit Listrik Tenaga Surya (PLTS)," Indones. Clean Energy Dev. II, no. November, hal. 68, 2018.
C. R. S.G., Ramadhan Rangkuti ., "Perencanaan Pembangkit Listrik Tenaga Surya Di Atap Gedung Harry Hartanto Universitas Trisakti," hal. 1–11, 1974.
I. Gede Civavisna Brahma, I. Nyoman Satya Kumara, and I. Ayu Dwi Giriantari, "PERANCANGAN DAN SIMULASI PLTS ATAP 1 KWP MENGGUNAKAN HELIOSCOPE," Ida Ayu Dwi Giriantari, vol. 8, no. 2, pp. 249–256, 2021.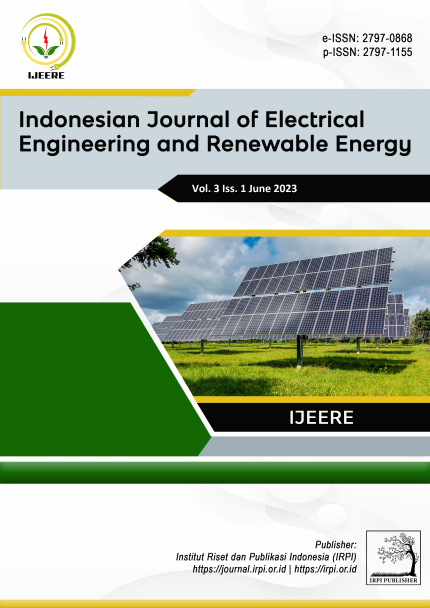 Downloads
How to Cite
[1]
Vito Arnando, "System Design of On-Grid PLTS Barbershop Gaul with Helioscope: Desain Sistem PLTS On-Grid pada Barbershop Gaul dengan menggunakan Helioscope", IJEERE, vol. 3, no. 1, pp. 47-57, Jun. 2023.
Section
Table of Contents IJEERE
License
Copyright (c) 2023 Indonesian Journal of Electrical Engineering and Renewable Energy (IJEERE)
This work is licensed under a Creative Commons Attribution-ShareAlike 4.0 International License.